The Routledge Handbook of Indian Buddhist Philosophy
Edited by Pierre-Julien Harter, William Edelglass, Sara McClintock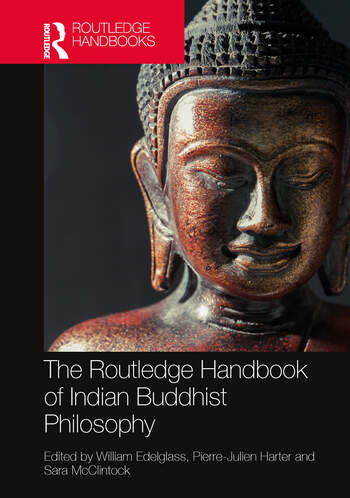 The Routledge Handbook of Indian Buddhist Philosophy is the first scholarly reference volume to highlight the diversity and individuality of a large number of the most influential philosophers to have contributed to the evolution of Buddhist thought in India. By placing the author at the center of inquiry, the volume highlights the often unrecognized innovation and multiplicity of India's Buddhist thinkers, whose unique contributions are commonly subsumed in more general doctrinal presentations of philosophical schools. Here, instead, the reader is invited to explore the works and ideas of India's most important Buddhist philosophers in a manner that takes seriously the weight of their philosophical thought.
The forty chapters by an international and interdisciplinary team of renowned contributors each seek to offer both a wide-ranging overview and a philosophically astute reading of the works of the most seminal Indian Buddhist authors from the earliest writings to the twentieth century. The volume thus also provides thorough coverage of all the main figures, texts, traditions, and debates animating Indian Buddhist thought, and as such can serve as an in-depth introduction to Buddhist philosophy in India for those new to the field. 
Essential reading for students and researchers in Asian and comparative philosophy, The Routledge Handbook of Indian Buddhist Philosophy is also an excellent resource for specialists in Buddhist philosophy, as well as for contemporary philosophers interested in learning about the rigorous and rich traditions of Buddhist philosophy in India.
Available for purchase here.