Graduate-Level Philosophy @ UNM
The Department of Philosophy at the University of New Mexico offers programs leading to the M.A. and Ph.D. degrees in philosophy. Many areas of concentration are open to students. Both Anglo-American and Continental approaches are well represented, and the department has special strengths in:
The History of Philosophy
Philosophy of Art
Philosophy of Mind
Phenomenology and Existentialism
Philosophy of Psychology/Psychoanalysis
South Asian Philosophy
Feminism
Social and Political Philosophy
Because of our small size, students can expect a high degree of personal attention and interaction with the faculty.
The Department of Philosophy maintains an active colloquium series with frequent visiting lecturers. The department also has an endowed lecture series: the Brian O'Neil Memorial Lecture Series in the History of Philosophy. Past O'Neil speakers have included Julia Annas, Robert Pippin, Alan Richardson, Paul Guyer, and Hilary Putnam. In recent years the department has hosted the Southwest Seminar in Early Modern Philosophy and the Southwest Seminar in Continental Philosophy.  Our graduate students also organize an annual conference, and their recent keynote speakers have included Graham Priest, John Lysaker, and Cynthia Willett.

The University of New Mexico is located in Albuquerque. Founded in 1706, Albuquerque is New Mexico's largest city with a population of approximately 540,000. The metropolitan area boasts a population of over 700,000. With a relatively mild climate (not too warm, not too cold) the city has become a relocation destination for people across the country.
Albuquerque lies at the base of the Sandia mountains and straddles the Rio Grande river. Both offer hiking and mountain-biking year-round, and skiing is available in the Sandia Mountains as well as Santa Fe, Taos and many other locations in northern New Mexico and southern Colorado. Fly fishing is another outdoor activity easily enjoyed by UNM philosophy faculty and graduate students.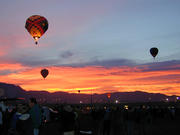 The arts are well represented and include theater, opera and light opera, symphonic and chamber music, ballet and dance, and many art galleries. Two other culturally renowned cities, Santa Fe and Taos, are within easy driving distance.
Albuquerque also has a host of other recreational destinations including excellent golf courses, a world class zoo, an art history museum, the botanical gardens and an aquarium.  Each year, the city proudly hosts the world famous Albuquerque Balloon Fiesta. Parks, tennis courts, and bike trails are also generously scattered across the city. Albuquerque and the UNM campus are also recognized for their unique infusion of Adobe, classic, and modern architectural influences.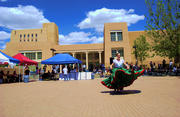 New Mexico is uniquely multi-cultural, incorporating Native-American (Pueblo, Navajo, and Apache), Hispanic, and Anglo populations. Traditional Native-American and Hispanic-American arts and crafts abound. These influences are also richly expressed in the spectrum of food, art, and music of the community. New Mexico is also recognized for its plethora of important archaeological sites.
For more information on Albuquerque or New Mexico, please visit:
Department Strengths
Continental Philosophy

The UNM doctoral program in Philosophy offers a wealth of resources and opportunities to students desiring to focus their studies on topics in Continental philosophy ranging from the early nineteenth century up through the present.
Six faculty members in the department specialize in Continental philosophy or have research interests related to this area: Adrian Johnston, Brent Kalar, Paul Livingston, Ann Murphy, John Taber, and Iain Thomson. The figures covered by these faculty members include: Fichte, Schelling, Kant, Hegel, Husserl, Marx, Kierkegaard, Schopenhauer, Nietzsche, Freud, Heidegger, Sartre, de Beauvoir, Lacan, Levinas, Foucault, Derrida, Deleuze, Irigaray, Kristeva, Badiou, Žižek, and Agamben. (UNM is also home to the Max Scheler Archives, one of two such archives in the world.)
The major movements and orientations in the Continental tradition are well-represented in the department, and we regularly offer courses in 19th, 20th, and 21st century philosophy that focus on: German Idealism, existentialism, phenomenology, structuralism, post-structuralism, social and political philosophy, psychoanalysis and gender theory.
Given the department's general strength in the history of philosophy, our graduate students, have the opportunity to develop a thorough understanding of the historical contexts crucial to comprehending the discussions and debates central to Continental philosophy.
South Asian Philosophy
With several specialists in South Asian philosophy the UNM Department of Philosophy provides an opportunity for graduate students to focus on Asian/South Asian thought at either the M.A.
or Ph.D. level. For more information please click here.