Kelly Becker
Professor
Outcomes Assessment Coordinator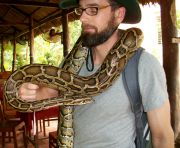 B.S. (University of Minnesota, '88)
B.A. (University of Pittsburgh, '91)
Ph.D. (UC, San Diego, '99)
Bio:
Has published papers in Journal of Philosophy, Synthese, Erkenntinis, History of Philosophy Quarterly, American Philosophical Quarterly, Dialectica, Metaphilosophy, Philosophical Studies, Acta Analytica, Philosophia, Journal of Philosophical Research, and book reviews in Mind, Philosophical Quarterly, and elsewhere. He has also published a number of chapters in books dedicated to important topics in recent epistemology, in addition to encyclopedia articles and annotated bibliographies.
Professor Becker recently collaborated with Professor Iain Thomson on The Cambridge History of Philosophy, 1945-2015, a first-of-its-kind volume on the titular period with panoramic scope.  It includes 52 chapters written by well-known experts on central movements and topics in "analytic" and "Continental" as well as non-western philosophy. More here: https://www.cambridge.org/core/books/cambridge-history-of-philosophy-19452015/8781B55721CCC1971722C3BDD00FFFDB
Prof. Becker and Tim Black published a collection of new, state‑of‑the‑art essays on the sensitivity principle in epistemology. The volume was published with Cambridge UP in the Summer of 2012. Further details here.
Prof. Becker's book, Epistemology Modalized, which includes critical discussions of extant versions of modal epistemologies and a defense of the thesis that knowledge is reliably formed, sensitive true belief, was published by Routledge in 2007. The book is now available in paperback here.